Sunshine Coast Thai Boxing Centre
3/4 Textile Avenue WARANA Q 4575
0417 004 315
Monday Night
7:30 - 8:30
Monday Extended Class
8:30 - 9:15
Wednesday Night
7:30 - 8:30
Wednesday Extended Class
8:30 - 9:15
Sunday Training
Contact Instructors to confirm location & times.
Private lessons by Appointment.
NOTE: JUNIORS AND SENIORS TRAIN TOGETHER IN ONE CLASS WITH BOW OUT FOR JUNIORS AT 8:30
LOCATION & TRAINING TIMES
FREQUENTLY ASKED QUESTIONS
Q. Does NUCA and the Coastal Dragons Dojos style offer real self defence training or is the style more focused on sports martial arts?
A. Urban Combat Systems is not about sport. It was developed to be a highly effective system of self defence. The techniques used are tried and proven to work. NUCA have created the style from an array of Martial Arts techniques to create a truly holistic system of self defence. This is therefore not really a sport, it's real life self defence. Having said that, our training is still great fun and is really safe and easy to learn.
Q. I have trained before in Martial Arts. Can my previous training help me with rank in NUCA?
A. Absolutely. Training in any style will assist you with rank in the NUCA system. Bring along your last grading certificate to confirm your rank and we will assess your current standard to determine your equivalent NUCA rank and you will able to continue your training at that rank.
Q. I have young Children? What is the minimum age that a child can commence training?
A. Because every child is different, we don't actually specify a minimum age. As long as the child is able to get a benefit from the classes and enjoy the experience without being a disruption to other students. We have had students as young as 4 years old training with us in the past.

Q. Do I need a uniform to start training?
A. No. We do generally ask that you have acquired a GI (uniform) before you attempt your second grading however we do not expect anyone to purchase a GI until they are convinced that they wish to continue training with NUCA.
Q. I have a permanent injury or disability. Does that exclude me from training?
A. Absolutely not. You should explain your situation to your instructor and they will make sure your training is modified to suit you. You may be asked to obtain a medical clearance depending on the circumstances. Coastal Dragons does not discriminate in any way against people with illness, injury or disabilities and we encourage everyone to enjoy the many benefits our training can provide.
Q. What do I need to bring for my first class?
A. Students coming for their first class should bring their PPE (if they have some), a water bottle and a towel. Wear comfortable loose fitting clothes that you can easily move about in. Also bring a smile and an open mind. Your first class can be daunting but it should also be fun.
Q. Are women welcome to train at Coastal Dragons Dojos?
A. Of course. We encourage women of all ages to come and train. We believe that in today's society, all girls and women should train in some form of self defence. We've had women of all ages training with us and have successfully graded many women to Black Belt in our club. We often run womens self defence classes and rape prevention classes.
Q. Is it expensive to train with NUCA?
A. Not at all. We believe we offer exceptional value for money training. We offer family and group training discounts and free training to Emergency Service Workers. NUCA is a registered "Not for Profit" association with any surplus proceeds being donated to local charities annually.
NUCA – STYLE BADGE EXPLANATION
The Japanese Kanji Text Spell "NUCA", the name of our style.
The Japanese kanji and the Black Shuriken are symbolic of the heritage of the Okinawan Goju roots to the kata used within our style.
The symbolic cross inside the circle is representative of our lineage to Zen Do Kai whilst the fact it is sideways demonstrates that we have pulled in our own direction. This shape is born from the Bushido and Isoha crosses of Zen Do Kai.
The Black, Red and White Colours are the colours of contrast, humility, strength and courage.
The circle symbolises endlessness such as our obi circling our bodies during our never ending pursuit of martial arts knowledge.
The black outer circle encompasses a white centre to signify the purity of our system as we will only accept the purest techniques that are proven to perform under pressure.
The text within the outer circle not only spells the name of our style, it also symbolises the founding members input into the development of the system and the grading syllabus.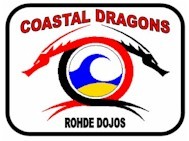 COASTAL DRAGONS DOJOS – BADGE EXPLANATION
The 2 dragons at the centre focal point represent the 2 Founders of Coastal Dragons Dojos (Grant & Joshua Rohde).
The Red dragon represents the Sensei (or Instructor) while the black dragon in the background represents the student always covering the sensei's back.
The red and black dragons also represent yin yang whereby the red is the aggressor whilst the black is the more passive.
The dragons rotating in a circle represent the obi (belt) as it circles our body whilst the circle symbolises endlessness, such is our endless journey of knowledge in martial arts.
The 3 primary colours have been used to signify that within balance we create harmony and white light, just as in NUCA whereby we commence our training in a Blue Gi and White Belt and end up in a White Gi with a Black Belt , thus coming full circle in our journey.
The Ocean, Sky and Land illustrate the earth and its elements, whilst the beach theme is indicative of the area that has drawn us to live. As I was born under the sign of water, so am I attracted to it.
The name "Coastal Dragons" demonstrates our proximity to the ocean and our association within the Martial Arts.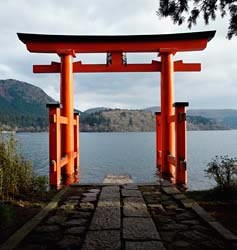 Just as we train in the way of Bushido, it is fitting we adopt the sacred values of the Samurai.
These are:
Gi - Rectitude (JUSTICE)
This is about doing the right thing or making the right decision, not because it's easy, but because it's ethically and morally correct.
No matter the outcome or result, one does not lose face if tempering proper justice.
This character can also be defined as righteousness, justice, morality, honour, or "right conduct". In more a more expanded definition, it can mean loyalty to friends, loyalty to the public good, or patriotism. This idea of loyalty and friendship comes from the fact that you will treat those you are loyal to with morality and justice.
This is also one of the five tenets of Confucius doctrine.
Yu - COURAGE (BRAVERY)
This character can be translated as bravery, courage, or fearless in Chinese, Japanese and Korean. This is the simplest form to express courage or bravery, as there is also a two character form which starts with this same character.
This character can also be translated as brave, daring, fearless, plucky or heroic.
Jin - BENEVOLENCE
Beyond "benevolence" word can be also be defined as "charity" or "mercy" depending on context.
The meaning suggests that one should pay alms to the poor, care for those in trouble, and take care of his fellow man (or woman).
This is one of the five tenets of Confucius. In fact, it is a subject in which Confucius spent a great deal of time explaining to his disciples.
Rei - RESPECT
We show respect by speaking and acting with courtesy. We treat others with dignity and honour the rules of our family, school and nation. Respect yourself, and others will respect you.
This is also one of the five tenets of Confucius.
This character can also be translated as propriety, good manners, politeness, rite, worship or an expression of gratitude.
Makoto - HONESTY
This character means truth, faith, fidelity, sincerity, trust and/or confidence.

Meiyo - HONOR
Honour is about having or earning the respect of others and about your reputation. It is the status of being worthy of honour

Chugi - LOYALTY
Loyalty is defined as devotion or dedication to one's Lord or Teacher.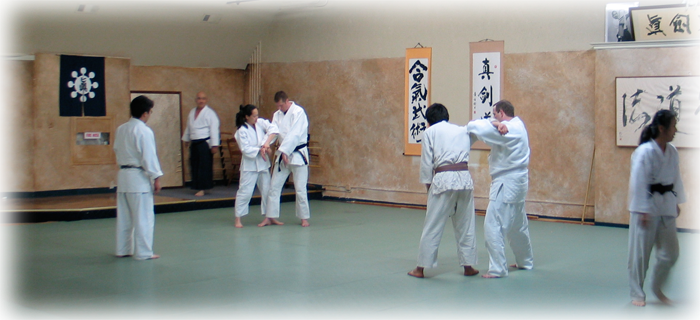 Tradition & respect never go out of fashion...


Dojo means "A Sacred Place" - treat it as such

Do not wear shoes on the dojo training area

No Drugs, cigarettes or alcohol in the dojo

Do not enter a class late or leave early without acknowledgment of the highest rank instructor in the class

No swearing or actions or disrespect or breaching of rules

Always train with "true" attitude of Bushido

Never abuse fighting skills, always fight defensively and use these skills always to help lower ranks

Dojo etiquette is to be always clean in body and appearance

Bow upon entering or leaving the training area of the dojo

Never walk in front of your seniors

Always address you seniors by their proper titles

When placing or removing your belt, students should kneel on their right knee when doing so

Students are to line up in order of rank from left(highest rank) to right (lowest rank), standing opposite the instructor (rank is indicated by belt colour and seniority of training time).

Black belts are to line up in order of rank with the highest ranked instructor in the centre, then alternating order of rank with the second highest rank to the right, the third highest rank to the left and so on.

Within the black belt hierarchy, grade (Dan) ranking primarily designates seniority. However, where two black belts are of the same rank, the one with the higher teaching title is considered the higher rank

Higher rank coloured belts should endeavour to set good a example for lower ranked students and be responsible for the behaviour and conduct of lower ranked students

If a student must adjust their Gi (uniform) during training, they must wait until the end of the activity in progress then turn to the back of the class prior to adjusting their Gi or belt.

During training, there should be no idle talking between students

Students and black belts are not permitted to use training equipment without first obtaining permission from the instructor

All students are to participate in any competition in strict accordance with the competition rules and in the spirit of good sportsmanship

During training all students should be aware that the level of intensity of their training is at an appropriate level when partnered up with another student, taking into consideration the other students age, weight & sex,

Coastal Dragons Dojos tradition encourages that new black belts wear their belts continuously for at least 24 hours after successfully attaining their Sho Dan Ho (probationary 1st Degree) grading.

When it comes to dojo financial problems, Samurai would have respectful discussions in private but would never develop into arguing on such matters.
RISK MANAGEMENT POLICY

Policy Statement

National Urban Combat Academy Inc. will maintain procedures that provide it with a systematic view of the risks it faces in the course of its activities. Where appropriate, these procedures will be consistent with the Australian Risk Management Standard AS/NZS 4360:2004.
This policy encompasses all other policies.
Each training location must maintain ongoing risk management surveillance and review procedures and do a risk management audit at least annually.

Associated Standards
The risk management policy of National Urban Combat Academy Inc. encompasses the following standards:
• AS/NZS 4360: 2004 Risk Management
• AS/NZS 3806: 2006 Compliance Programs
Risk Identification And Management

A number of activities contribute to the identification of potential and actual areas of risk in martial arts school operations: This ranges from corrective/preventative actions, audit reports, feedback to complaints logs.
The Management Committee is responsible for raising awareness among staff of any operational areas that are known to impact negatively on clients or compliance capabilities. The Management Committee, in conjunction with the delegated staff member will, as part of the audit and review process, actively seek to

• Identify evidence of risk (actual or potential) and the nature, level and extent of that potential risk
• Assess the source, causal factors as well as the effects of the risk, and
• Isolate the factors that could possibly contribute to the likelihood of a potential risk
In conjunction with any delegated staff member, the Management Committee will:

• Define and discuss the risk factor with relevant staff, management, stakeholders
• Set policies, procedures and work practices in place to avoid or manage risk
• Document the risk element in the organisation's risk register, thereby submitting it to ongoing evaluation and improvement processes.

Implementation Procedure

The policy has two distinct areas of focus that are described below. The foremost is the identification of risks, and how these are classified. Important within this part of the policy is being able to identify new risks as they arise in the course of operations, and also the classification of known risks. Once the risk is known and classified, the second aspect of the policy deals with the on-going management of the risk to ensure it has minimal impact on the business and our service delivery.

Risk Identification

A risk is defined for the purposes of this policy as any action or lack thereof that compromises the quality or effectiveness of our business and/or service delivery. Many risks are identified and managed by the current Policies & Procedures. Identification and management of these again would be redundant and create inefficiencies, waste, and divert efforts needlessly. Therefore, the risks being identified within this policy are those that fall outside of the current quality system.
Risks are also identified in staff meetings, in daily operations, and also as part of our continuous improvement activities.
Once identified, the risk is defined, and the area of impact within the operation is identified. The risk is then evaluated in terms of the risk rating guidelines.
Once identified and classified, the risk is then actively managed to prevent or minimize its impact on the operations. A strategy and risk treatment plan is developed for each identified risk as part of this active management plan. Actions to manage the risk may involve revising policies, procedure, or other written material to cover the identified risk, thereby including it in the current system. Risk should be recorded in the risk register as they are identified.
Monitoring of risk management strategies is identified for each risk. The monitoring can take place as part of the Quality Management System monitoring and internal audit mechanisms. Alternative, it may be decided to monitor the risk management strategies independently. Whether the monitoring takes place as part of the normal operations or is explicitly established for the risk identified, the monitoring of the risks is done on a frequency basis based on the level of the risk.
Level H risks are monitored generally on a daily, weekly or monthly basis, depending on the specific risk and where it appears in the operation.
Level M risks are monitored generally on a three monthly basis.
Level L risks are monitored either every six months or annually.
The specific regime for monitoring the risk is nominated in for each the Risk Management form attached to this policy.

Reporting and review

As the risk is being managed in an on-going manner, information about it is collected and attached to the Risk Management form. This allows for regular reviews of the risk and the effectiveness of the management and monitoring of the risk. The risk may be re-classified into a different level, and the management and monitoring regime adjusted accordingly.
As risks are integrated into the overall Quality Management System, the materials related to that risk are held within the Version History with the appropriate policy, procedure, work instruction, or other material most relevant to the identified risk. In this manner, a history of risk identification and management is maintained.

Associated Documentation

Associated documentation may include:

• Risk Context Form
• Risk Evaluation Form
• Risk Action Plan
• Risk Identification Form
• Risk Analysis Form
• Risk Rating Guidelines
• Risk Register
• Risk Treatment Guidelines
• Risk Treatment Form
• Risk Treatment Schedule


IN-HOUSE CHILDREN'S CAMP POLICY

Policy Statement

National Urban Combat Academy Inc. recognises the intrinsic value of conducting residential martial arts programs for children whilst also recognising the increased risk of illness, injury, financial loss or damage to reputation in the event of an incident involving a child.
This policy sets the guidelines for the conduct of residential courses for children and must be read in conjunction with all other existing policies.

Budgeting, Cost Analysis & Pricing of Event

It is important when planning for an event such as a camp that consideration be given to the following:

• All costs associated with running the event, and
• Keeping the price affordable for participants, and
• Profit margins for the business
If it is not known how much it will cost to run the event then the amount charged to participants may not cover all expenses. The consequences of this could mean significant financial loss for the business.
Prior to making any arrangements to conduct a camp an activity budget (see KIDZ CAMP PLANNER) must first be completed to assist in assessing the viability of running the camp.
Once it is known how much it will cost to run the camp, the minimum price required to cover costs can be determined. This "bottom-line" figure should then be matched to market forces, by comparing the camp to similar events conducted by similar organisations, to ascertain the actual price which can be passed on to participants.

ADEQUATE & APPROPRIATE SUPERVISION

It is important to book instructors and supervisors well in advance, at least 6 weeks prior to the event. Ensure that you get a firm commitment from the instructor or supervisor. Organisers of the event must book at least the number of supervisors required for the maximum number of participants. The organiser must also compile a list of alternate supervisors from willing volunteer parents in the case where there may be a need to call upon an additional supervisor.

Male to Female Supervisor Ratio

When conducting an event that requires children to stay overnight it is required that there be an adequate ratio of male/female supervisors to male/female participants. The accepted ratio is at least one female staff member or supervisor actively on the premises at all times.

Supervisor to Student Ratio

The accepted ratio of supervisors to students is 2 supervisors for the first 15 students and 1 for each additional group of 5 or part thereof.

Instructor/Supervisor Fails to Attend

If an instructor or supervisor who has been booked fails to attend the event, the following procedure should be followed:

1. Attempt to contact the instructor/supervisor to confirm his/her wellbeing and resolve any problems which may have occurred to delay his/her arrival.
2. If the instructor can arrive in a reasonable amount of time then volunteer parents can be delegated to supervise until the instructor/supervisor arrives.
3. If the instructor/supervisor cannot be contacted then a replacement instructor/supervisor should be organised immediately from the designated supervisor pool.

Showering/Bathroom Facilities

The environment available to staff and students does not include showering or bathing facilities. This will obviously have an impact on the duration of the camp, the longer students go without showering the more uncomfortable they will be and the higher the chance that poor hygiene could result in illness.
Accordingly any camp that is to be conducted on the premises must not exceed 3 days/2 nights. If a longer camp is being considered then alternate more appropriate accommodation arrangements must be investigated.

Sleeping Arrangements

Prior to students attending the camp parents must be informed that all students, regardless of age and sex, will be sleeping in the same room. Ideally this information should be included in the permission form that parents must sign to allow their child to participate in the camp. Below is an example of an appropriate permission form that could be used.
To increase privacy whilst sleeping and limit sexually inappropriate behaviour of older children, boys and girls should be separated with boys sleeping at one end of the room and girls at the other end. Supervisors should sleep in-between the two groups.