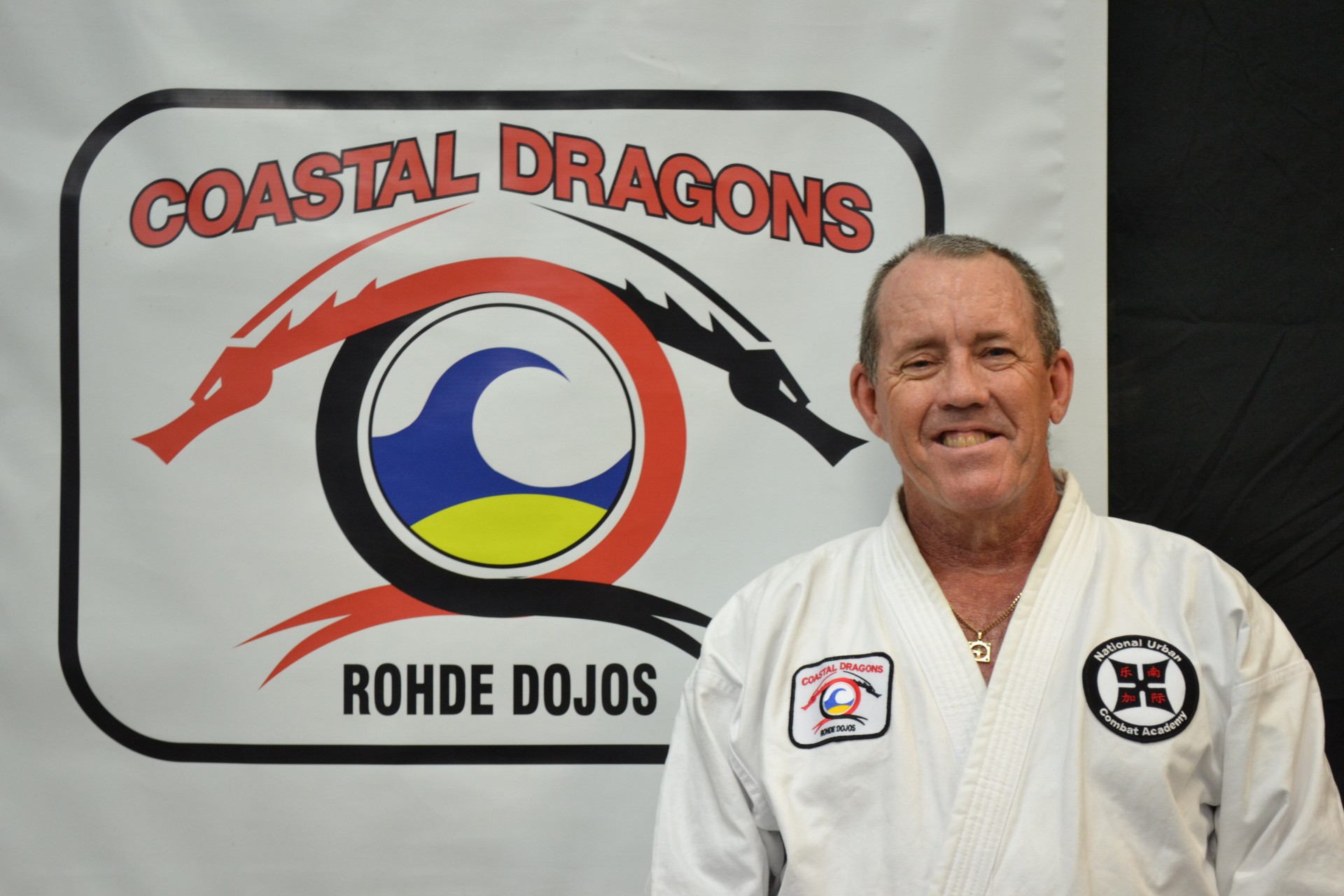 KYOSHI GRANT ROHDE
6th Degree Black Belt (Rokudan)- NUCA
Grant started his journey of martial arts in Bob Jones Zen Do Kai in Melbourne in 1977 when he was 14 years old. He was introduced to Zen Do Kai by a friend and he started training at Greenwood High School Dojo under Gordon Kirk, Steve Nedelkos and Martin Ruzic. During that time he also trained regularly at Elizabeth Street in Melbourne City under Soke Bob Jones' Red Dragon Dojos. It quickly became apparent to Grant that training in martial arts was able to fill many gaps he had in his life at that time and consequently it soon become his ultimate passion.
Grant trained in Melbourne for about 4 years but as his family moved around lot during his youth, he consequently had to train in a variety of different styles depending on where they were living at the time to allow him to continue his martial arts journey. During this time he trained in Boxing, Judo, Shoot Wrestling and Kick-boxing. Over the next 2 decades, Grant trained at many different Zen Do Kai schools around the country. He would take his Gi with him everywhere he went and would seek out a Zen Do Kai school where he was and train with them. Over the 2 decades he did this he trained in Western Australia, South Australia, Victoria, New Soth Wales and Queensland. Grant claims this was wonderful as he got to experience a huge variety of teaching techniques and learnt a lot from the various instructors.
In 1992 Grant moved to Toowoomba with his work and began training with his children in International Authentic Tae Kwon Do under Peter Sullivan and Jamie Moore. At this time he also began training privately with Kyoshi Steve Dickens, in Toowoomba in both Zen Do Kai and also in BJC Muay Thai. In 1994 when his children were old enough to attend the regular Zen Do Kai classes, they joined Shibumi Samurai as a family and Grant began training full time once again in Zen Do Kai.
In December 1999 Grant relocated to the Sunshine Coast and in April 2000, together with his youngest son Joshua, they founded Coastal Dragons Dojo firstly in the Warana High School Performing Arts hall under Kyoshi Steve Dickens Shibumi Samurai, and then later moved the club to the wonderful Sunshine Coast Thai Boxing Centre where the club has been ever since.
In March 2013, Grant launched NUCA and the SMART Urban Combat System.
Grant is registered with Martial Arts Australia as a Certified Martial Arts Instructor (Membership No. 9260)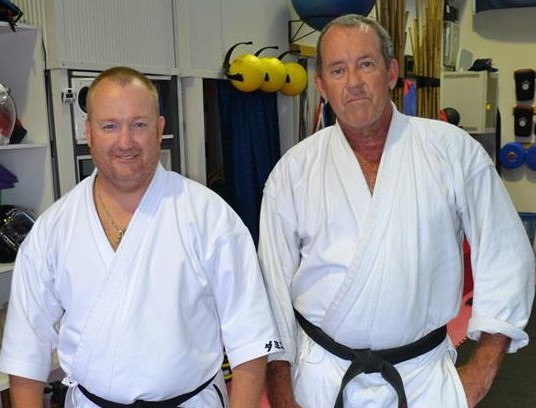 SENSEI GRANT ROHDE
3rd Degree Black Belt (Sandan) - GoJu Ryu Karate
After resigning from Zen Do Kai, Grant started training in a variety of different styles in search of systems that he could incorporate into his NUCA program. In 2012 he commenced training in GoJu Ryu under his instructior Sensei Damien Martin from Southern Cross Martial Arts on the Gold Coast.
Grant was immediately hooked on how efficient the style is and he has been extensively studying the art of GoJu Ryu ever since. He also studies the bunkai application of the GoJu Ryu kata as taught by Tiara Sensei from Okinawa. GoJu Ryu kata and bunkai is now at the core of the NUCA system. Grant was graded to 3rd Degree Black Belt in GoJu Ryu in December 2015 by Sensei Damien Martin and his grading panel. Sensei Damien is a 5th Degree in GoJu Ryu and holds Black Belts in many styles including a 7th degree in GoKi-Kai Karate-Do and was formely a 7th degree Kyoshi in Zen Do Kai.
Grant was officially awared Jun Shibu title by Tiara Sensei on Saturday 3rd September.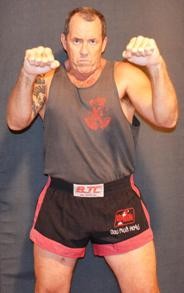 2nd Degree Black Singlet - BJC Muay Thai

Grant's Muay Thai training started in April 1992 under Kru Steve Dickens (who was a 6th Degree Kru at the time) Grant's 2nd Degree was the last grading he undertook in BJC Muay Thai in November 1998.
Martial arts has been a major part of Grant's life for over 39 years. During his late teens and early 20's, having fought numerous ameteur kickboxing fights, he had the opportunity for 13 professional kick boxing ring fights with an impressive record of 10 wins (8 by knock out), 1 draw and 2 losses.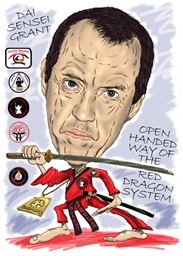 BJC Arnis Eskrima Kali
Grant trained under Sensei David Hourix at Pakenham and Cheltnam during 1988 - 1992 in both Zen Do Kai and in BJC Arnis Eskrima Kali. AEK was Grant's first introduction to weapons fighting and he greatly enjoyed learning stick fighting and how to defend himself against armed attackers.
Grant has also trained extensively in combat knife fighting, pressure point control, joint manipulation techniques and unarmed combat. He is a certifered Level 1 Practitioner in Paul Cale's Kinetic Fighting System. He has trained in several other styles as well including Traditional Tae Kwon Do, Shoot Wresting & Boxing. Over the years that Grant has been running Coastal Dragons Dojos, he has taught tactical defence and urban combat techniques to Security Guards, Crowd Controllers, Police, Military Personnel, and numerous private citizens.
Grant is currently continuing his training in NUCA and is also studying Brazilian Jui Jitsu and submission wrestling and is now incorporating a mixture of MMA and traditional style training into his regular classes. Grant is also continuing his studies in GoJu Ryu and its assocaited bunkai. Grant is extremely dedicated and committed to his martial arts journey and is very passionate about teaching the art to anyone who wants to learn. Grant loves watching people develop and hone the skills of martial arts and has vowed to commit himself to teaching people in the hope that if only one person should ever be capable of saving themselves from serious harm, then his life's work teaching has not been in vain.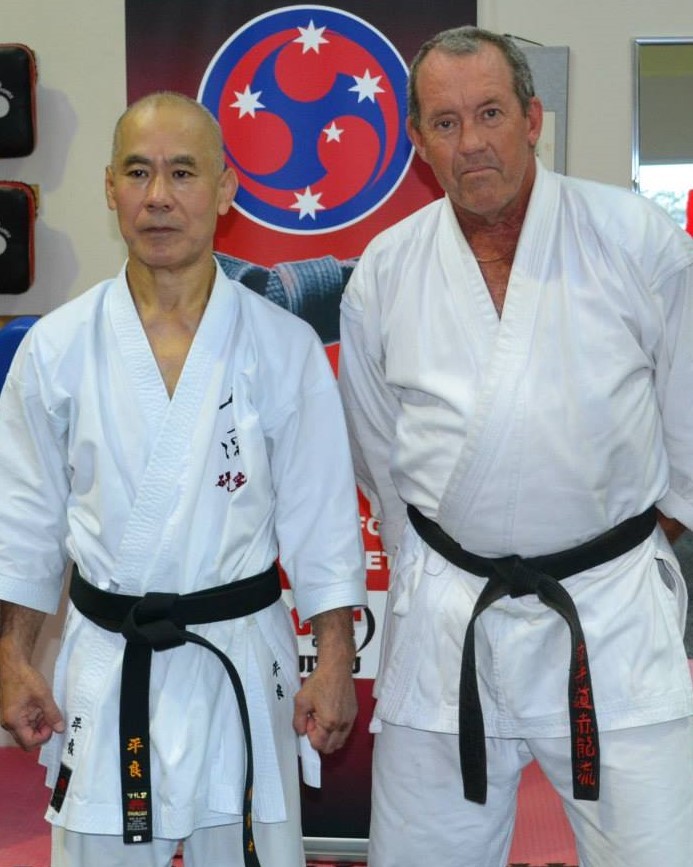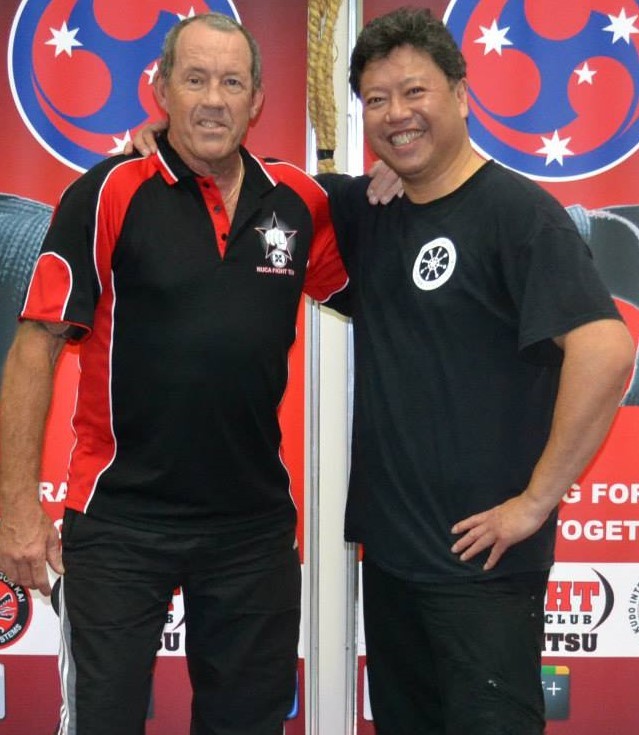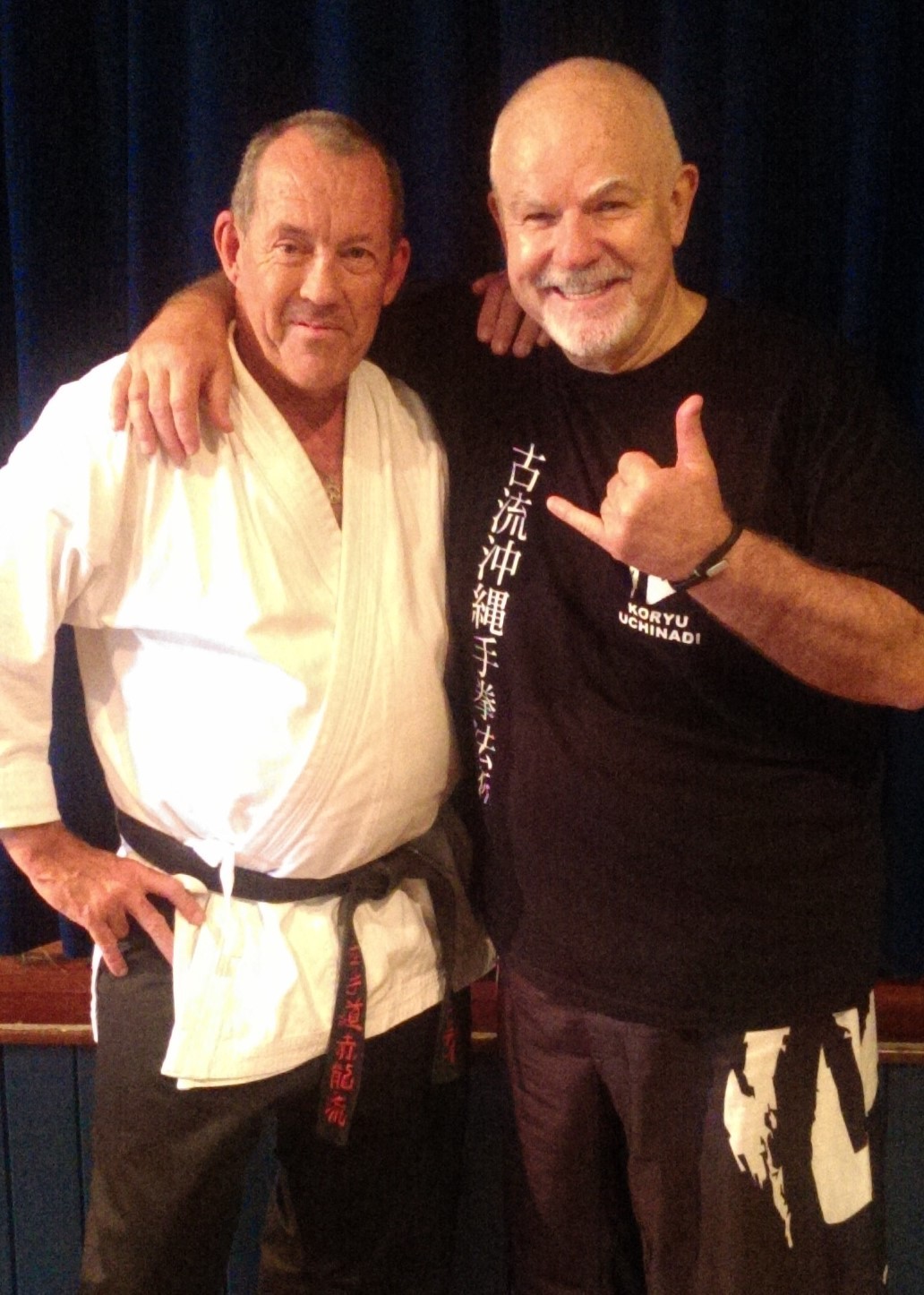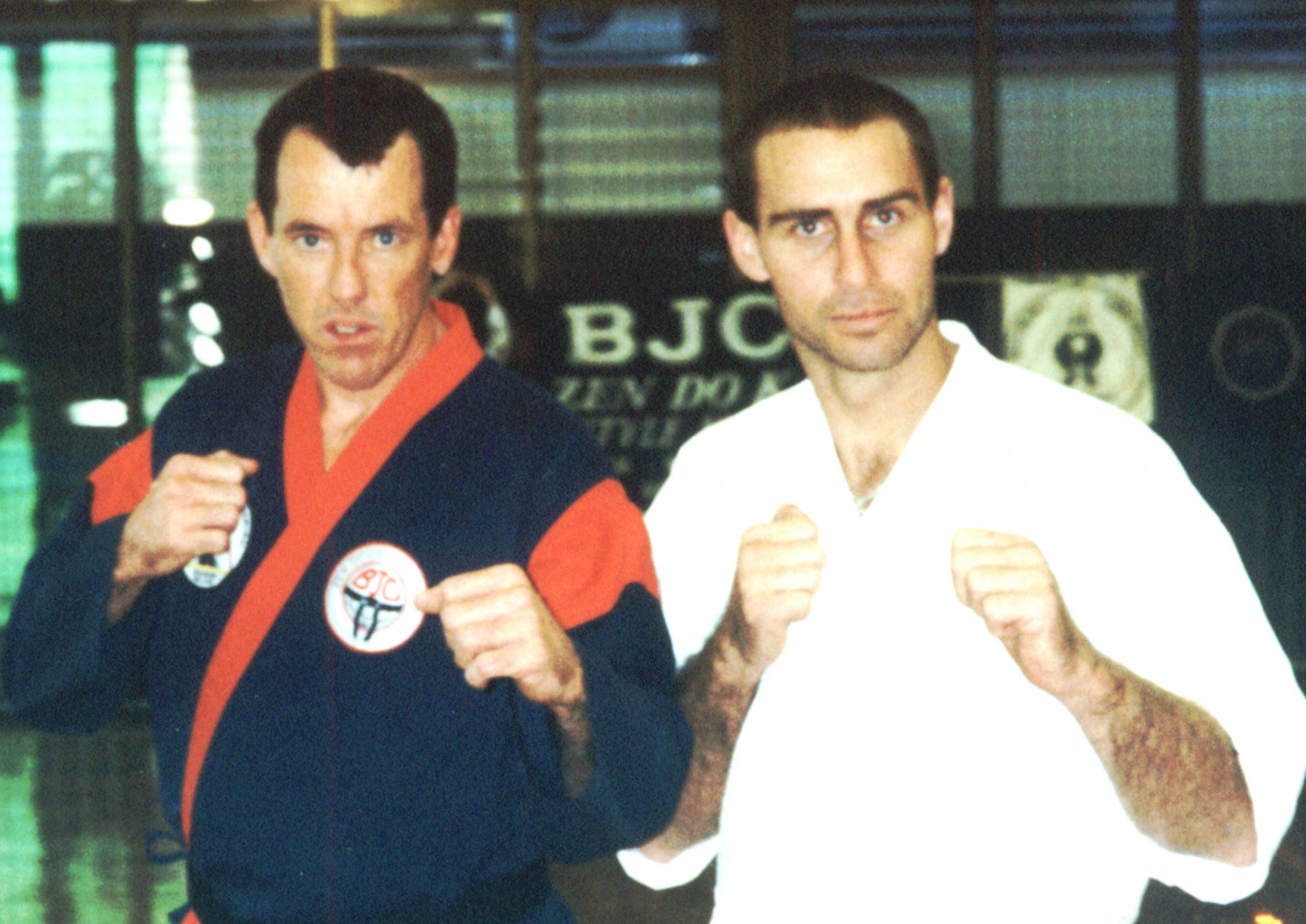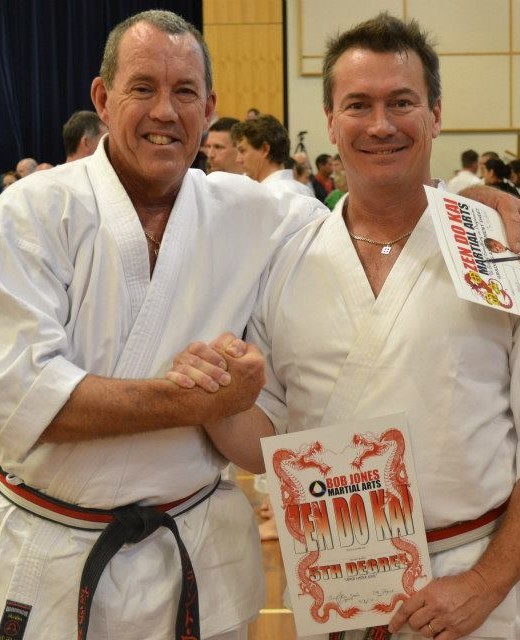 This photo was taken of Grant with the late Kyoshi Steve Dickens in about 1996 in Toowoomba. Kyoshi Steve was an inspirational man, a great martial artist and mentor and a great friend. He is greatly missed by all who knew him.
This photo was taken of Grant with Shihan Mark Edgar in 2012 on the day of their 5th Degree Zen Do Kai grading

This photo is of Grant with Hunchi Patrick McCarthy. Sensei Patrick is known as one of the world best authorities on Okinawan Karate history. He is an amazing martial artist and a good friend. Grant trains with Sensei Patrick as often as possible and always learns new and exciting things.
This photo is of Grant with Masaji Taira Sensei. Taira Sensei is a 9th Degree in GoJu Ryu and is the chairman of GoJu Ryu Kenkyukai. He is renowned as the world's leading authority on GoJu Ryu Bunkai application. Grant attends every Tiara Sensei seminar possible and has also travelled to Okinawa in January 2015 to train with him at his home dojo.
This photo is of Grant with Ray Floro. Ray has developed the Fluro Fighting System for knife and edged weapons. His systems have been adopted by miltary special forces in numerous countries around the world. He is the best there is. Grant is incorporating the Fluro knife fighting system into the NUCA program as the preferred edge weapon defence system.